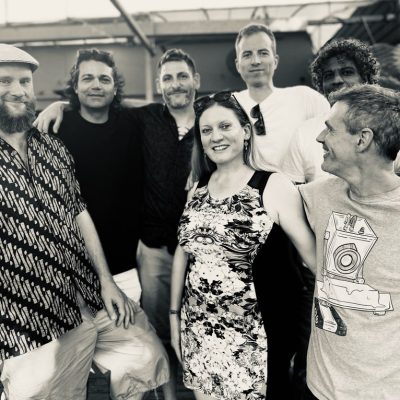 AGENCY DUB COLLECTIVE
Legendary off-beat outfit Agency Dub Collective meld classic reggae rhythms, a good dose of 60s soul and a multitude of unusual influences into their live dub-reggae show.
The shimmering twang of surf guitar, the mellow tones of Hammond and Rhodes, strange samples and psychedelic sounds swirl and float upon spacious bass-laden grooves. If you haven't heard of dub-reggae before, think Bob Marley meets Pink Floyd.
2023 has been a creative and inspiring year for the band, with a new album in the works, and the instant magical chemistry when the dynamic, soulful vocalist Jenny Sawer was invited to join the Collective.
Agency Dub Collective will soothe your soul with their heart-felt tunes, relax and expand your mind with their cerebral soundscapes, and get you on your feet with their high energy grooves.