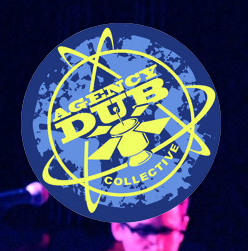 AGENCY DUB COLLECTIVE
FRL SAYS: Agency Dub Collective, or "ADC" or "Agency Dub" or JUST "Agency" are a live dub band and record label from Australia.  They are stalwarts of the Australian Underground Dub scene. A have written countless songs, released over 8 albums and toured extensively around Eastern Australia since forming in 2000. ADC have supported FRL for years n years n years and continue to do so – great minds think alike! Come n get your bass on ADC will make you JUMP! FIRE!!
ADC SAYS: Agency Dub Collective have honed their trademark spacey-roots reggae sound since the turn of themillennium. Having variously blended dub styles with everything from punk to soul-jazz and dancehall, they have recently settled into a vibe that is purely instrumental. ADC's signature sound is highlighted by lush melodic guitar and organ lines, driven by a punchy rhythm section and drenched in analogue FX. 2018 promises to be yet another memorable Folk Rhythm and Life for these live dub pioneers.