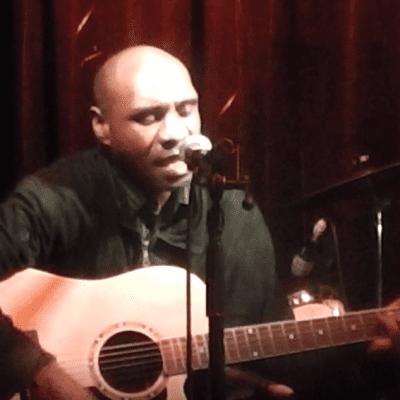 AMOS ROACH
Amos Roach is a Wiradjuri/ Gunditj Mara man who is a musician and dancer.
Amos Roach's music presents a narrative of healing, told with song and dance.
His voice travels between the Desert, the Riverland and the Saltwater to the city like smoke from a fire.
Amos is a cultural practitioner. Traditional First Nations culture informs the fundamentals of his craft. His music is part of the song-line that connects people and Country.
Everything Amos does is music. If he is not playing an instrument, he is listening and exploring new sounds.
Australian Gypsy Reggae imagines a fusion of Australian traditional and modern indigenous music, founded in rhythm and the Didgeridoo with Flamenco influenced Rap music, ballads and Rock that shakes the ground and compels us to dance.
A lilt of smoke, the Riverland echoes and we can feel the sand and salt water rushing through the veins of Amos's voice as he carries the song lines from the desert to our ears.
Festivals:
Music Director, Share the Spirit Festival, 2017
FRL 2008
Harmony Day 2016 – MC and Performance
Kinneman Dance Spirits:
Australasian World Music Expo/Melbourne Australia
The Speigeltent, 21st Nov 2008 Danced Opening for Liyarn Ngarn
Wedding Ceremony Nov 2008
Queenscliff Music Festival, Nov 2008 opened for Liyarn Ngarn
El Dorado (Bilyani) Folk Rhythm & Life, Dec 2008 opened for Liyarn Ngarn
WIPCE- World Indigenous Peoples Conference on Education, Nov '08- Melbourne, Rod Laver Arena Closing Ceremony, Danced Opening for Archie Roach & Ruby Hunter.
Tasmania Taste Festival-Hobert Jan-09 Opening for Liyarn Ngarn
Ceres-Aboriginal Family day Concert May 2009 Dancing opening for Archie Roach & Ruby Hunter
Yulkuum-Jerrang: 2nd Indigenous Economic Development Conference-Growing our future.
Melbourne, Albert Park May 2009
NAIDIOC WEEK PERFOMANCES- City of Melbourne Official Flag Raising, St Kilda-NAIDOC Family Day & RMIT NAIDOC Day.
RMIT- Indigenous International South American Latin Conference Oct 2009
Melbourne Museum Children's Week – Romp & Stomp Day. Bunjilaka, Oct 2009
Koori Night Market- Northcote Town Hall, Nov 2009
Walk Against Violence Day-Albert Park, Nov 2009
Aboriginal Youth @ Risk – Jan 2010
Harmony Day Fairfield Amp Theatre Performance & Workshop March 21st2010
Ruby Hunter's Tribute/Benefit Concert, Trades Hall Mar 21st2010
Band/ Musician Appearances:
Amos has been playing didgeridoo, guitar and piano since he was 8 years old.
Keyboard & Lead guitar for Archie Roach and Ruby Hunter
Ruby Hunter and the Rotators
The Deadly Band
Lead guitar with the Roach family band.
Lead guitar for Dave Arden
Amos Roach Band
Black Magic
Koori Kinection
No Fixed Address
Coloured Stone
Bart Willoughby Band
Selwyn Burns
Playing Didgeridoo
George Dreyfuss 2010
'Horizon Lines.' Rupert Guenther Collaboration, 2005 (See link provided).
Eva Duncan
5 Elements Music Production Tour with artists from India. 2010
Survival Day After Party 2018 – The Tote
Lentil As Anything Thornbury, Feb – April 2018
Peter Rottumah Benefit – The Tote 2018
Ruby Hunter Foundation Benefit – The Tote, 2018
Residency, Fitzroy Stars Football Club, 2018 Season.