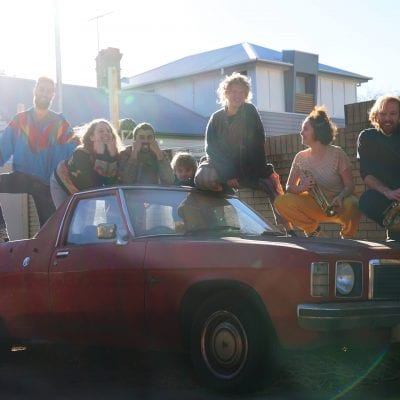 BELLY SAVALAS
Presenting Belly Savalas: A soulful sing along with big bad brass and hip shaking rhythms.
Chaotic yet classy,
Belly
Savalas
brew their own mix of soulful pop with hints of jazz, folk, funk and powerful vocal harmonies. With heart-welcoming lyrics accompanied by groovy backbeats, their performances will leave you smiling and keep you guessing. Think wild percussion, big brass, bluesy keys and sassy vocals from all members of the band, you'll soon find yourself grooving to their soulful sound.
The band combines some of Melbourne's finest musical talents (members from Senegambian Jazz Band, Opa Bato, Raw Humps, Headphones Jones, Ukulele Death Squad) into a musical experience that will butter your ears and get you moving to their infectious groove.
Since their inception Belly Savalas have toured interstate, played sold out shows in Melbourne and have been the backbone of many a Melbourne house party. Get ready to dance, smile and sing-a-long to their colourful musical adventure.
"Outrageously fun with some serious soul…" – Honk Oz
"Weird & Wonderful" – Bar Open
Reuben Legge – Keyboard, Saxophone, Vocals
Anna Du Ve – Vocals
Stav Shaul – Guitar, Vocals
Laura Kirkwood – Drums
Sam Osborn Rassaby – Percussion
Tom Benson – Saxophone
Basil Byrne – Trumpet
Matt Lloyd – Bass
https://www.youtube.com/watch?v=LjM91LKcvHUwww.wearethebellysavalas.com
https://www.facebook.com/wearethebellysavalas/
https://wearethebellysavalas.bandcamp.com/releases