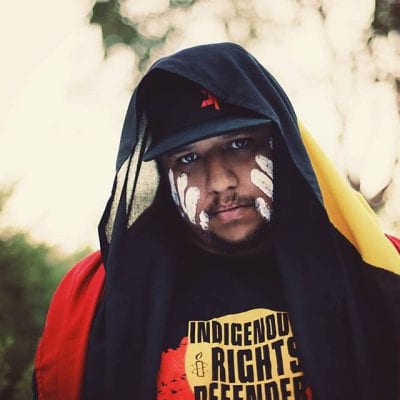 BRYTE MC
WHO IS BRYTE?
Bryte is an established Hip Hop artist of Aboriginal and Torres Strait Islander heritage
based in Perth, Western Australia. As a youth rising from Brisbane's low socioeconomic
spectrum, his experiences with petty crime saw him consumed by the cheap and easily
accessible creative outlet of street graffiti art.
It was during this time that Bryte discovered new ways of expressing himself through
the artistic avenues of Hip Hop. Beatboxing and freestyle rap battles were an
inexpensive way for Bryte and his friends to hone in on their rap skills and train their
minds for creative rhyming
Soon Bryte became driven to perform and met like-minded Hip Hop artists. His focus
gave him a desire to advance his dream career as a youth role model and renowned
Australian Hip Hop artist. In 2007 Bryte moved to Perth in an attempt to take his career
to new heights, attending music studies at Western Australia's ABMUSIC College and
setting out to release his debut album, Full Stop, which won the 2009 Too Solid Award
for Urban Album of the year.
Urban Art Workshops have helped Bryte to stay in touch with his roots and continue to
pursue his passion for helping those who have seen troubled times, along with those
who seek to improve their skills as professional artists.
In March 2013 Bryte released his full second album titled 'Bryte Side Of Life'. Soon
after, Bryte was nominated for Hip Hop Artist Of The Year both at the 2013 Deadly
Awards and the National Indigenous Music Awards (NIMA's).
Along his road to Hip Hop greatness, Bryte has supported and or played alongside
many influential national and international acts; such as Thundamentals, Q-tip, Drapht,
Scribe, Hunter, Mantra, Savage, Pigeon John, Layla & Dazastah, Optamus and Hopsin
just to name a few.
Bryte simply plans to seize every opportunity with two hands and continue to make
music that inspires others to open their minds and fight for a better life.