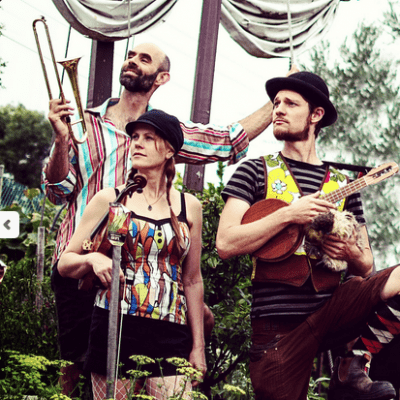 FORMIDABLE VEGETABLE
Possibly the only band in the world promoting permaculture principles, ecological resilience and climate-change adaptation through dance music, Western Australia's FORMIDABLE VEGETABLE are the world's most unique experiment in 'ecological electrofunk-swing'. With high-energy live shows consisting of glitchy bass-beets, swingin-ukulele, soaring strings and hyperactive horns, this act has only one goal: to pound simple solutions for sustainability deep into your consciousness in the funkiest way possible!
With their music permeating every corner of the globe from Glastonbury Festival to the headquarters of the United Nations over the past six years, Formidable Vegetable is paving the way towards simple solutions to some of the worlds' biggest problems with their special brand of positive musical activism. They are a favourite on the Australian and international festival circuits, having played many times at Woodford Folk Festival (Queensland), Rainbow Serpent (Victoria), Luminate (NZ), BOOM Festival (Portugal), Shambhala (Canada), Symbiosis (USA), Boomtown (UK) and more, alongside acts such as Radiohead, Fat Freddy's Drop and The Rolling Stones.
Realising that music is one of the best tools for bringing about cultural change, Formidable Vegetable frontman,
Charlie Mgee
has dedicated his musical mission to composing swingin' tunes on a ukulele about plants, peak-oil and permaculture – among other things – with the intention of inspiring us to create the kind of sustainable world we want to live in, starting with our own front yards.
Joining him is Mal Webb on slide trumpet & trombone and Kylie Morrigan on violin & backing vocals.