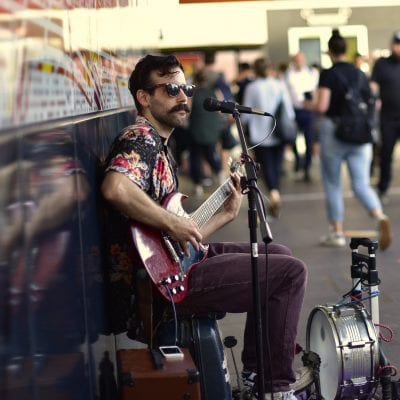 KANE MUIR
Kane Muir is a one man blues band from Sydney, Australia.
"A gypsy jangle blues rhythm with a great growl,"
 His musical stylings combine blues, jazz, gypsy and folk from around the world. 
Stomping atop his suitcase drums, He plays both the bass and guitar parts singing with husky soul.
A multi-instrumentalist, Kane also plays the harmonica, trumpet & saxophone.
His sound has developed from years busking in the underbelly of New York City to the streets of New Orleans.
He has spent time playing in Nashville, San Francisco, Los Angeles, London, Berlin & Ireland as well as the east coast of Australia.
As a session guitarist, Kane has played and or collaborated
with artists such as: Jesse Boykins III, Sloan Peterson
Rainee Blake and Jesse Redwing.
He is also known under the alias APOHLO,
an instrumental project he created whilst living in NYC.