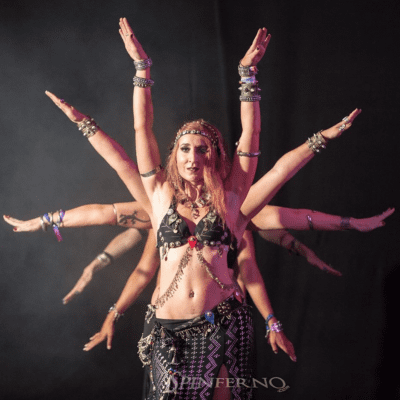 LAURA ENTWINED
Entwined Bellydance is the creative project of Laura Entwined, an accomplished Melbourne-based, Queensland-born, tribal bellydance artist, teacher and choreographer.
She has been training and performing since 2006 and teaching successful weekly classes in Melbourne since 2012.
She is a regular and sought after guest teacher and performer at many national music, lifestyle and arts festivals and a popular soloist and troupe director at numerous local bellydance events. She has also travelled interstate and internationally to perform, including Brisbane, Bali, Byron Bay, California and Sydney to name a few.
Laura is also a sought after solo performer, dancing regularly at festivals, clubs and a regular guest performer with live band Ganga Giri (2011-present) and a member of The Space Cadets with DJ Mickey Space (2016-present).
She has performed alongside numerous international bellydance stars including Rachel Brice, Mardi Love, Sharon Kihara, Ashley Lopez, Mat Jacob and Deb Rubin, as well as musicians such as Bashka, Sikander, Babaganoush, Sitar Ace, Cheshire and Griff.
…NOURISH THE SOUL AND EXPRESS THE DIVINE!
https://entwinedbellydance.com/