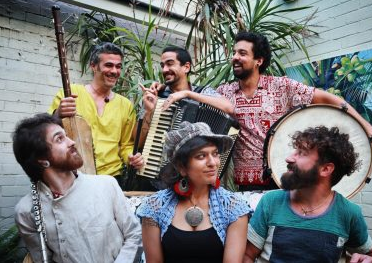 MANDACARU
Mandacaru plays raw and rare Forró style, an earthy, organic, melodic sound featuring vocals, accordion and sizzling Brazilian percussion with a unique rhythmic pulse.
Lead singer/accordion player Phillipe Alves (Brasília) brings influences from his hometown and over 15 years of expertise sharing Forró from the Northeast of Brazil.
Ramona Yagnik (India), Antonio Moreira (Recife) and Tiago Ucella (Sao Paulo) on percussion/vocals share their rich musical backgrounds representing styles such as Maracatu, Coco, Afoxé, Forró and Samba.
Joining Mandacaru are special guests Ettore Sanfelice (Porto Alegre) and Renaud Gay (France). Ettore is a Brazilian bassist, flutist and composer with background in improvisation and jazz. Renaud on Guembri/flute/jawharp focuses on the contemporary use of traditional instruments and has been playing world music for more than 15 years all over the globe. Together with Mandacaru they create exotic and upbeat grooves that will get you up and dancing.