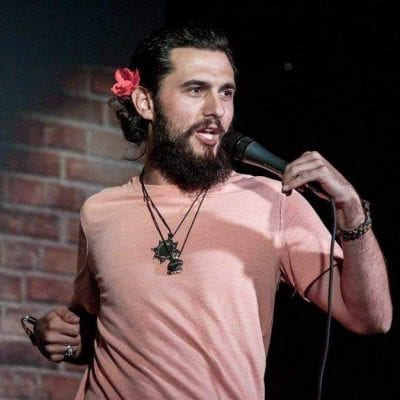 MARTY BRIGHT
"Marty Bright has been bringing his unique brand of observational and physical comedy to stages around the country and the world for the past 6 years. He has been likened to Jerry Seinfeld on LSD.
Marty has also been part of the Melbourne International Comedy Festival and the Sydney Comedy Festival where he was chosen for the prestigious FRESH, Breakout and Regional Roadshow Showcase tours. Bright has taken to stages across the U.S, Canada and NZ including LA's Comedy Store, Caroline's in NYC and multiple reputable clubs around North America.
This will be this happy hairy hippy's second time at FRL after a few years of making a name for himself as the go to comedy dude at numerous conscious arts and spiritual festivals around the country including Nimbin Mardi Grass , Dragon Dreaming , Psyfari , Burning Seed , Festival of the Sun and Collaborative Roots.
His Left-of-Centre perspective on society and existence will have you pondering and giggling.
YOU WILL BE WITNESSING THIS GUY @WORKSHOP HUB SAT NIGHT AT 'HOW THE FOCACCIA?!' COMEDY NIGHT