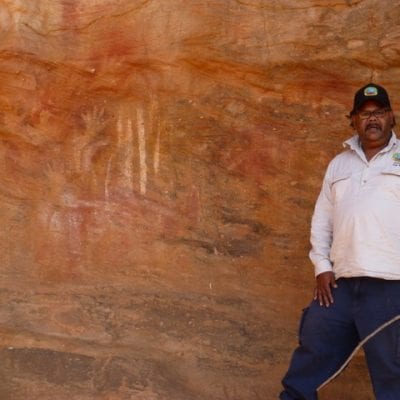 MUTAWINTJI MOB
All the way from Mutawintji (180km NE of Broken Hill) comes MUTAWINTJI MOB!
Michael "Smacka" Whyman, his cousin Leroy Johnson and Family are here with friends and family to provide a wealth of arts, crafts, songs, and food for EVERYONE!
Aboriginal art and craft workshop
Art – Aboriginal artist Frank McLoud will do a demonstration of art styles used in his art works and explain the meanings of these symbols. Also, participants are able to try the hand at art with advice and guidance from Frank.
Craft – Aboriginal tools, such as clapsticks, boondies, digging sticks and boomerangs. Garnie Bates and Anthony Haywood will show participant how to create tools used in traditional Aboriginal life. You will receive your own piece of Mulga wood and be guided in how to create these implements.
Traditional smoking ceremony – Smacka Whyman will lead the group in a traditional smoking ceremony and acknowledgement of country.
Aboriginal music workshop- Leroy Johnson and Anthony Haywood will guide participants through the traditional and contemporary didgeridoo music, learn people the techniques of playing the Didgeridoo and everyone can have a go. Later these two will perform the own songs.
Bush tucker – the Mutawintji Mob will show people how to knock out and cook "Johnny cake" on the hot ashes and you can try some delicious kangaroo fresh from the bush.
Frank McLoud will be bring his art along and if ya lucky, Garnie and Anthony might bring some of their work also.
These pieces will be available for private sale!
COME AND LEARN! COME AND LEARN! COME ONE COME ALL! ALL DAY SAT AND SUN @ WORKSHOP HUB