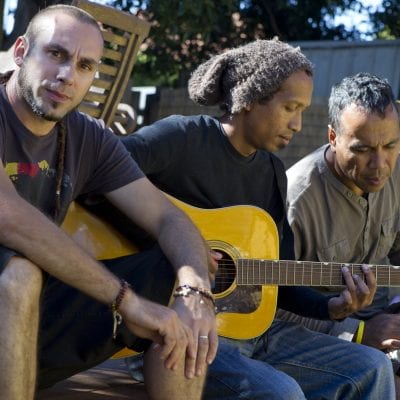 MYSTIC TRIO
Three musicians with their roots in Timor Leste, singer Paulo Almeida, Gil Santos, guitar and percussionist, Zeca Mesquita, play some original and traditional Timorese songs. The Mystic Trio sound is laid back and relaxing, almost mesmeric. It comes straight out of a culture where singing is second nature.
Paulo, Gil and Zeca are also part of Timorese/ Australian band THE DILI ALL-STARS. Paulo Almeida is curently the frontman of World band SOL NATION, while Gil and Zeca have other projects of their own. Together they combine to bring a gentler, more contemplative sensibility to an acoustic sound.
Having toured Timor Leste in many occasions the most memorable moment would have to be the independence celebrations in May 2002 where as part of the famous DILI ALL-STARS they played to over 80,000 locals and foreigners.
The Mystic Trio have played various festivals around the country and are currently in the studio recording their debut album.
http://www.solnation.com/