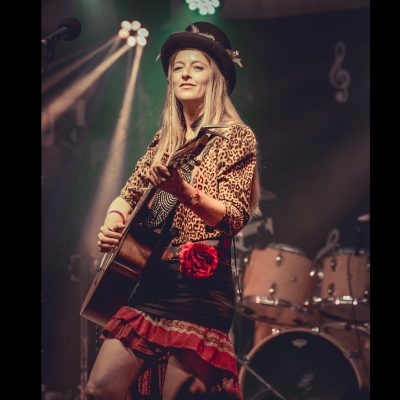 Szara Fox and the Midnight Secrets
Szara Fox and the Midnight Secrets concoct fiery and irresistible Balkan Gypsy-infused dance grooves in an untamed, hot-blooded and mesmerising live show. A European singer-songwriter who has traveled the world and performed throughout Europe, Australia and NZ, Szara Fox weaves an elemental sensuality through tales of wanderlust, revelation, love and what lies beyond the horizon. With the Midnight Secrets, she constructs a flaming temple of sonic beauty full of fire and transcendence.
A band of experienced festival performers, the Midnight Secrets feature the sublime talents of fierce and impassioned trumpeter Andrew Darling, viscerally virtuosic guitarist Nico Di Stefano, honey-fingered groove merchant Michael Arvanitakis, and the rolling thunder of drummer Roderick McLeod. The Midnight Secrets provide a searing sonic ornamentation for the unique and spellbinding musical creations of exotic Dutch songstress, Szara Fox.