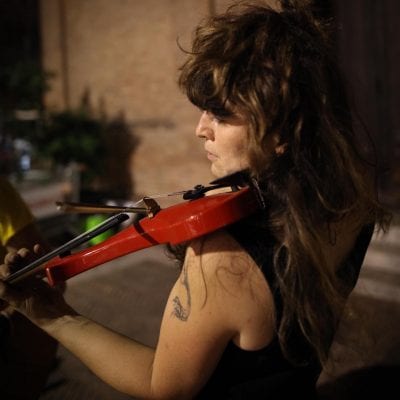 TAILOR BIRDS
Electric violin, live looping, Foley art and all things good, this is world folk at its' finest, and music at its' most raw.  Building energy, transporting its' listener to another dimension, with time to heal and a moment to breath, this music soothes the soul, warms the spirit, and ignites your passion.  The Tailor Birds sound is all about the vibe and positive energy, building an audience that is as diverse as much as it is one.  
With 6 European tours to her name, and a 5th release just out, 
this music is all about connecting people to something good again, in a world that is constantly changing.
Based half the year in Australia, touring via Hatch, her Toyota Hiace Commuter, 

Sophie spends the other half of the year, touring Europe, this year featuring as an invited act, one of 20, at Ferrara Buskers, one of the worlds' biggest world street festivals.  Performing a wide variety of shows, she has one main goal in mind – to inspire others to shoot for their dreams.
Based in Melbourne for 10 years or so, before heading out onto the road, Sophie is thrilled to be returning to FRL for a 3rd appearance as Tailor Birds, bringing along 2 new records – 
'Stilts on the Water'
 a lullaby to fall asleep to, released in Feb '18, and latest record 
'Where will we go to break free from the Crows'
released in Oct this year.  The music tells tales of love, loss, hopes and dreams, that anything is possible.  Inspired by the people she meets, and the stories she hears whilst on the road, this music is about the hopes and dreams of us all.  A self made artist, an inspirational soul, this music is like nothing you've heard before