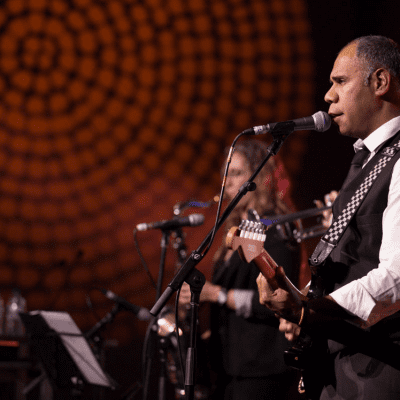 The Deans of Soul
The Deans (formerly The Grenadines) are a critically acclaimed original Soul band based in Melbourne, Australia.
Winners of The Age Music Victoria Award for Best Indigenous Act 2014.
Nominated for "Band of the Year" in the prestigious Deadly Awards in 2007.
The Deans are the sound of modern, original Soul.
The Deans bring classic sounds and grooves into the gritty modern metropolis of Melbourne's Rock City.
The Deans self–titled album introduces their 7 piece Modern Soul Sound. With velvet smooth vocals, sweet keys, soaring heartbreak guitar, deep Motown bass grooves, brassy sass and hip-shaking rhythms The Deans combine soul with cool rock influences to create urban songs about a future Australia.  The album was recorded in an old farmhouse in the mists surrounding lake Kyneton and launched at the Australian World Music Expo in 2015. The band are currently working on their next release, and again they recorded in an isolated country farmhouse, this time in a mudbrick commune surrounded by gum trees and roos.
The Deans are like a United Nations of Indigenous and Non Indigenous Australians unified in the one Soul groove:
Linc Yow Yeh – Singer/Song-writer/Guitarist.  Master of the Stratocaster, Linc is a Goreng Goreng man raised in Jagera Country, Brisbane but whose traditional ancestry is Bundaberg and Darumbal Country, Rockhampton.
Bradley Boon – Drums.  Brad is a Kurnai man from Gippsland.  He lays down the heartbeat with a groovy fatback feel.
Nick Larkins – Bass. Nick is a musical nomad from Tasmania who has played with ARIA award winning acts Wild Pumpkins At Midnight, Dan Rumour (The Cruel Sea) and Monique Brumby.
The Deanettes – The Deans also feature the heartbreaking vocals of soul diva Sophie Dickson, Sophie Elsworth and the melodic keys of Phoebe Elsworth, and three red hot horn players; Emelia Wilmot, Bel Davies and Charlie Woods. They add sass and hooks to the rock steady soul groove. In certain circles they have been affectionately dubbed 'The Deanettes.'
FRL SAYS: WE LOVE THESE GUYS THANK YOU FOR YOUR UNDYING SUPPORT YA BUGGERS
https://www.thedeansofsoul.com/grooves