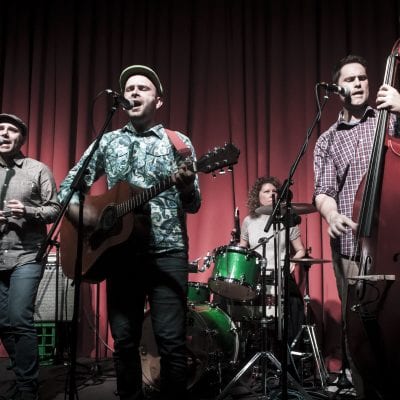 UNPAINTED PROSPECTS
Unpainted Prospects create a tapestry of lush, poignant alt-folk woven with beauty, sentiment
and honesty. Visiting the raw, strange musical worlds visited by explorer-songwriters including
Paul Simon, Neil Finn and Joni Mitchell, they released their debut EP 'Night & Day' (recorded
with Richard Andrew of Underground Lovers) in 2017.
Evolving from the inner northern pubs and bedrooms of Melbourne, Unpainted Prospects are
an craft intimate, keenly observed tales from the personal to the political. Formed in 2015, the
act is the latest vehicle for alt-folk storyteller Matthew Daniel (Roddy Read Songwriting Award
finalist 2017). Daniel's vulnerable vocals and 'exceptionally constructed melodies' (Beat)
sound across a rich landscape painted by Nick Tumney (double bass), Gawain Davey
(clarinet, saxophone, keyboard, harmonies) and Daniel Hook (drums). Unpainted Prospects
combine their musicianship seamlessly and draw the audience in with their lilting tunes.
Matthew Daniel previously honed his songwriting craft in The Fold, a band who enjoyed air-
play on 3RRR and 3PBS and graced the same stage as José González at Haldern-Pop
Festival, Germany. In March 2018 Unpainted Prospects featured at Renaissance Festival.
www.unpaintedprospects.com
https://facebook.com/unpaintedprospects
https://www.youtube.com/channel/UC1z_yVRXmz5Hph6JEWbeF8g