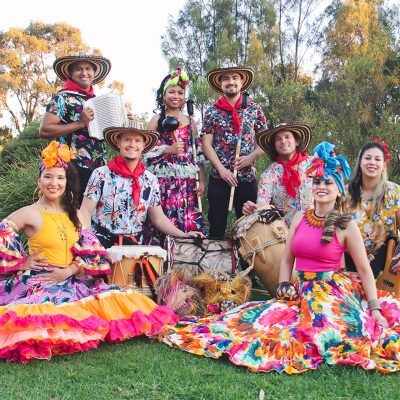 La Descarga
A fearless outburst of tropicality that tickles your brain on the dance spot!
La Descarga band is an iconic Latin-Australian music band where Colombian tropical roots music mixes with contemporary Aussie stamps. Born in 2010 in Melbourne, Australia, as a tribute to the folkloric rhythms of the coasts of Colombia and as a preserver of its cultural heritage, it has evolved for over a decade through diverse musical and cultural collaborations, into a forerunner of Latin-Aussie-tropical music. While blending the traditions with electric and electronic sounds, it brings original tunes as well as old time retakes of the golden tropical days of Colombian music.
La Descarga has been influenced deeply by the street carnival cultures of Latin America with their upbeat music, colours and dance, mixing the old and the new grooves and moves of Colombian and world Tropical culture. Originally performing traditional drums, marimba, gaita flutes, with cantadores y cantadoras (traditional singers) and folkloric dancers, its traditional sound has merged, throughout collaborations with Australian musicians, with psychedelia, electronica and dub, expanding in 2018 to it's the Electropical Orchestra format.
La Descarga has played in many of Australia's most beloved festivals including Firelight Festival, MOOMBA, Darwin Festival, Brunswick Music Festival, Australian Multicultural Festival, White Night Melbourne, Reservoir Stomp, Frankston Ventana Fiesta and Darebin Music Feast. La Descarga has released several singles including 'Eliminala', 'Alla en el rio', 'Chande Gozoso', and 'A Demoler' and will release their debut LP in 2024.