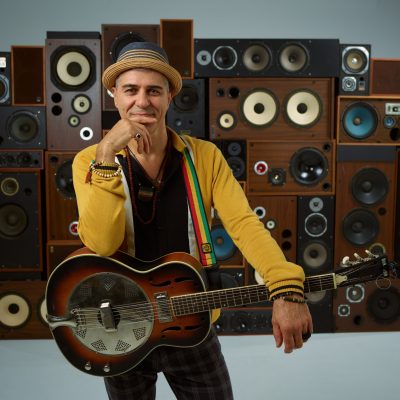 Nicky Bomba & the FRL 2023 ALL STARS
Nicky Bomba scatters recording devices around his home the way other people scatterreading glasses.
"The studio is my favourite place to be, creating, bringing something to life," Bomba says. "Writing is what I do constantly and my greatest fear is coming up with a good song and then not remembering it. That's why I have to have something near so I can always plant that seed."
That's a lot of seeds. Bomba's new album Food & Shelter is just his second solo album but the 24th of his career.
He has been a blazing creative spark in Australian music for decades: drummer in the John Butler Trio on classic albums Sunrise Over Sea, April Uprising and Flesh & Blood; the driving force behind Melbourne Ska Orchestra, the giant brass collective that grew from a one-offgig in Melbourne to play stages from Bluesfest to Glastonbury and win ARIAs for best world music album in 2016 and 2019. He is a multi-instrumentalist, producer and songwriter who has played in bands from Bomba to Bustamento and worked with greats like Joe Camilleri (their 2005 album Limestone) and Ross Hannaford (the Bomba-produced 1996 album Ross Hannaford Trio is reissued on Bomba's label Transmitter Records).